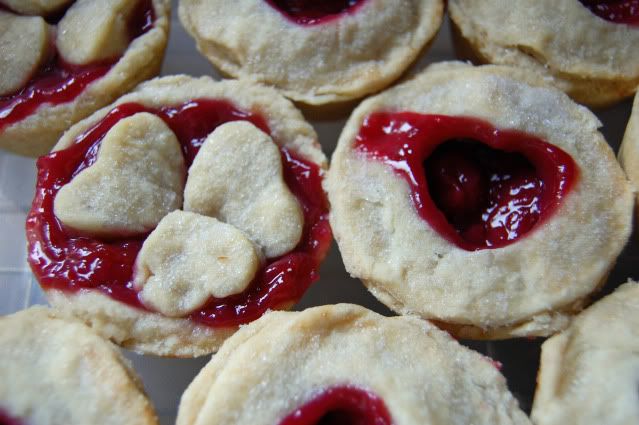 To celebrate Father's Day with my father-in-law, I made mini cherry pies. He and I share a love of cherry pie, and we stand firmly on the side of pie in the pie versus cake debate. This recipe found
here
at Simplicity Kitchen was great. Typically, I use the
pate brisee
recipe from Martha Stewart, but I am so glad I gave this a try. The combination of butter and shortening gives you the best of both worlds...flakiness and flavor (this 50/50 ratio is what I also use for cookies). I omitted the lemon juice in the crust recipe (didn't have any) and used butter flavor shortening. I have found a new standard crust recipe. Instead of lattice top, I used some little cookie cutters for the top pie crust. The lattice seemed like a lot of work for very little impact on the tiny pies.
The pie filling was delicious. I subbed flour for cornstarch (again...didn't have any), and it turned out just fine. There was some pie filling left over that I stuck in the freezer for a little rustic pie treat later on. I've never made cherry pie before, and I was so glad my step-mom told me about the frozen pitted tart cherries at GFS. There are enough cherries left over to make another batch of pies or to throw in homemade ice cream, smoothies, and oatmeal. I think I've made enough pies this year to justify the purchase of coarse sugar for sprinkling on the top crusts. And apparently, I could go on and on about pie, but I'll stop here at two paragraphs.
P.S. Blueberry season is coming up.