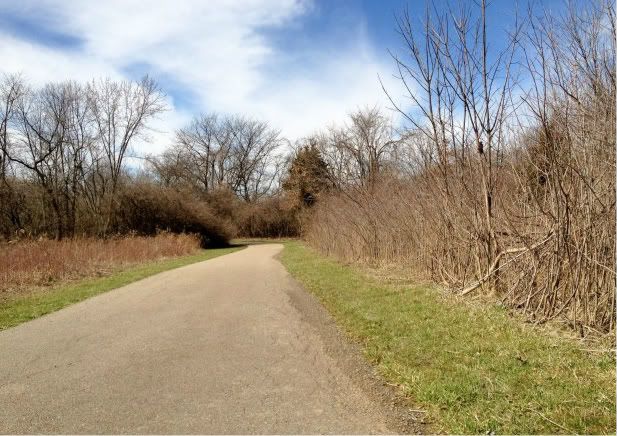 photo by Lauren taken during a walk yesterday.
words by me last week.
Being a working mom means I do a lot of juggling. I handle everything from laundry to permission slips, drop offs and pick ups, conference calls, deadlines and dinner. This week, I traveled the length of Ohio on Interstate 75 multiple times. I missed family dinners and bedtimes and a field trip. It isn't always like that. I'm fortunate to have a job that allows me to work from a home office and some flexibility in my schedule. But then again, some weeks look like this week.
I arrived at my site yesterday after an early wake up and a three and a half hour drive, conducted a long presentation for a room full of people, then drove another two and a half hours to my hotel in the next city. My evening was spent in my yoga pants answering emails, writing reports, organizing, and reviewing until I looked up at eight o'clock and reminded myself to eat. I grabbed a quick dinner and stopped into a bookstore to pick up a birthday gift for a party Eli is attending this weekend. I treated myself to about 30 minutes of leisurely browsing before heading back to settle in for the night.
But here is the gift of this week. Today's meeting is later in the day. I am writing this from a Cracker Barrel sipping a hot cup of coffee, having just read my hotel-provided USA Today. I am sitting next to a couple with their newborn baby. The baby is sleeping in his carseat while both parents are looking at pictures of that same baby on their cell phones. They are pointing out their favorites to each other. They are emitting the joy that comes from those first falling in love weeks of new parenthood. I am happier just having seen this. There are other people here, workers on hold due to the rain, family members meeting up and talking about other family members, older men dining alone.
Sometimes on these rougher weeks, I let myself fantasize about the life I would live if I didn't have a job. I would have a rocking body since I would be at the gym every day. We would eat all organic, from scratch dinners every night. I'd have a plot in the community garden where I could grow my own vegetables, which I would preserve myself to use during the winter. My kids would be in the best activities, and we would craft together every day while they wore clothes made by my hands. Did I mention that in this fantasy we have won the lottery, hired a a gardener, personal chef, personal trainer, and a live-in housekeeper. Yes...it is truly a fantasy.
This is today's reality. We just mailed in the last payment on my student loans. They took a full decade to pay off, and I thought this day would never come. Those loans allowed me to get a degree. To work as a nurse, where I became intimately acquainted with the delicateness of life. Where I learned what matters. Those loans let me pursue a career that would lead me to this current position, which allows me to make it to most of the school parties and field trips and after school activities. It's not perfect, and it's not my passion, but it works for today. And I am grateful for the gift of this leisurely morning. For saying yes to the second cup of coffee. For the adoring smiles of new parents gazing at their sleeping child. For spending time with this notepad and pen. And that will make today's long meeting and three and a half hour drive home a little easier to swallow.