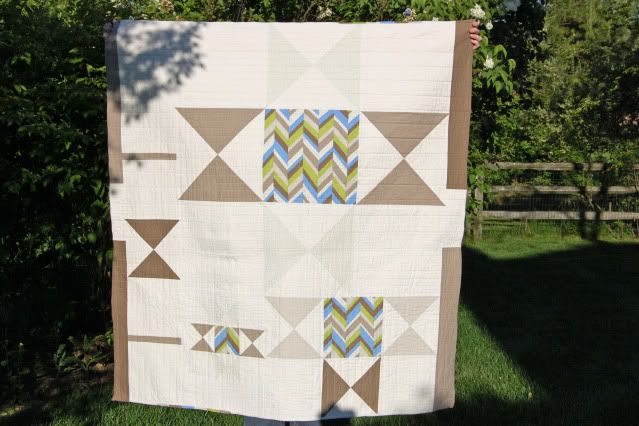 This quilt has a very special destination this week. It will be hanging in an exhibit by the Cincinnati Modern Quilt Guild at the
International Quilt Festival
on April 13-15, 2012. I'm so excited to be a part of the first display of modern quilts at an IQF show. Our exhibit is based on modern interpretations of the Ohio Star, a traditional quilting block. And the work our guild members have created is absolutely spectacular. You can see a few examples of the other quilts that will be on display
here
and
here
and
here
and
here
. They are expecting around 18,000 people to come to the show the weekend, and it's wild to think about that many eyes on our work. What an honor!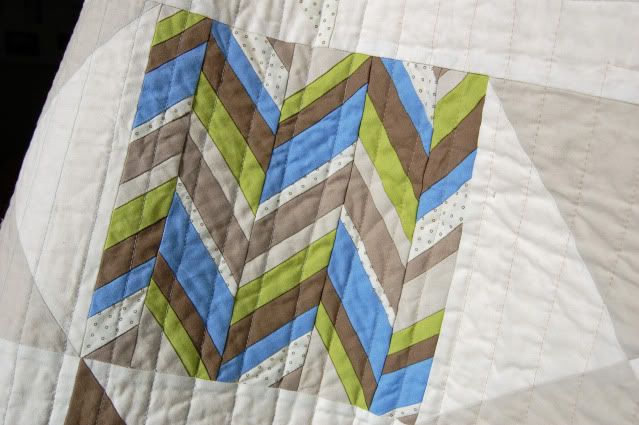 I'm really pleased with how this quilt turned out. I started it knowing that I would use three stars of varying sizes, but the rest was mostly improvisational designed. The herringbone centers were really fun to put together, and they add interest to the otherwise neutral palette.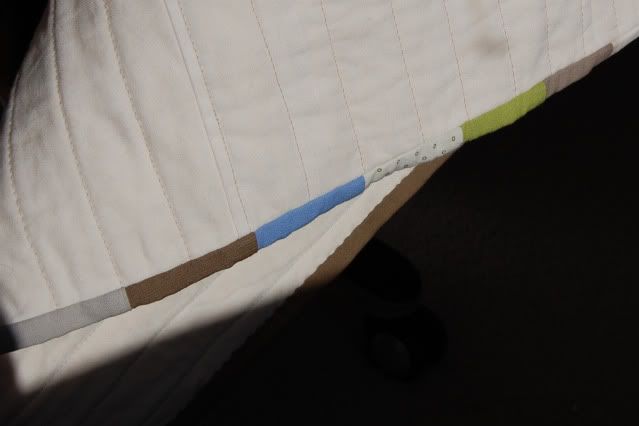 I pieced the binding to blend in to the design with the exception of a few pieced strips to balance out the colors. That strategically pieced binding is starting to feel like my 'thing' now. I do love it.
When we agreed to participate in the show, we had to fill out individual loan agreements for our quilts. I had to do things like place a value on my work and create an artist's statement. Very legitimate artist-y kind of things. Artist...first I had to accept that I fit the criteria for that word before I could craft a statement. I have always dreamed of being an artist of some sort but would never actually have thought to call myself one. In the end, I decided that if the IQF considers me an artist, I guess it must be so.
Below is the artist's statement that I submitted with my quilt:
"This quilt was made as part of the Cincinnati Modern Quilt Guild's project to modernize the Ohio Star block. My main goal in making this quilt was to reflect what I love about Ohio. While state has three major metropolitan areas, our agricultural roots are strong. Various shades of brown and tan represent the land and fields of Ohio. The green and blue represent pastures and sky. I chose to make three stars in different sizes, each with a pieced herringbone center square. The use of mostly solids, improvisational piecing, and machine quilting reflect some of the techniques used in the modern quilting. The overall quilting design is a series of intersecting lines in light blue and tan, and the binding is pieced to blend into the design. I am so honored to be a part of this series, which shows how the modern quilt movement, much like the state of Ohio, is rooted in rich tradition."
If you're planning on coming down to the IQF show on Saturday, April 14, I do hope that you will join the Cincinnati Modern Quilt Guild at our Modern Meet-Up at the Hyatt Regency hotel at 8:00 pm. We have some great sponsors and amazing door prizes, and we would love to meet you! You can read more about that over on
our blog
.